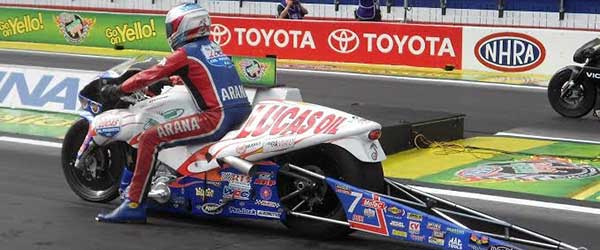 Gainesville, Florida (March 15, 2016) - Lucas Oil Buell rider Hector Arana Sr. has entered 273 Pro Stock Motorcycle races in his long career, but he still gets a charge when the NHRA Mello Yello Drag Racing Series season begins.
For the Pro Stock Motorcycle class, the 2016 season kicks off at the NHRA Gatornationals this weekend at Gainesville Raceway, and the 57-year-old couldn't be happier.
"Definitely, I'm pumped," Arana said. "I'm nervous, but it's always exciting, too. I also wish I had another month to get ready, but we'll go to Gainesville, work hard, stay focused, and try to have some fun. I'm looking forward to getting there."
Gainesville has started the Pro Stock Motorcycle season for a few years, and with a 16-race schedule, it's important to get off to a good start. Arana did that in 2009, winning in Gainesville before claiming the Pro Stock Motorcycle championship that season.
Arana has become a threat in the Pro Stock Motorcycle class, qualifying for the Countdown to the Championship playoffs in seven consecutive seasons, including 2015, when he won a race and finished eighth in the points standings.
He and his team spent the off-season preparing for 2016, using the extra month to fine-tune the Lucas Oil bikes. He tested this week in Valdosta, Ga., hoping to be among the quickest when the season begins in Gainesville this weekend.
Arana was born in Miami, so he'll have plenty of friends and family members in attendance.
"I'm looking forward to getting back to racing, especially the first one," Arana said. "Usually the first race is the hardest: The chassis goes through tech, the body goes through tech, and it's our hometown race, so we'll have a lot of family and friends. It's going to be hectic there."
Arana and the team are working on a new motorcycle, but that's still in development. In the meantime, new engines will power "old faithful," as Arana calls his current motorcycle.
"I hope the weather cooperates this weekend," Arana said. "But we will work hard and be ready for whatever happens."
Friday night qualifying will air from 9 to 10 p.m. ET on FOX Sports 1, with a second qualifying show from 6:30 to 7:30 p.m. ET Saturday. Race day eliminations will air live from 1 to 4 p.m. ET Sunday, also on FOX Sports 1.