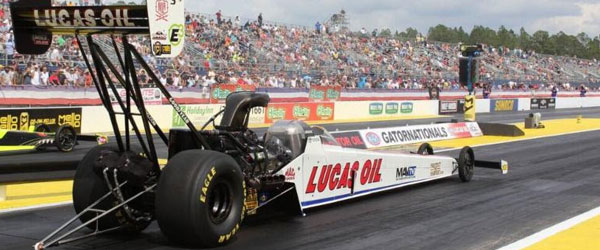 Gainesville, Florida (March 19, 2016) - The common cold had Lucas Oil Top Fuel dragster driver Richie Crampton feeling poorly, but an uncommon pass in the final qualifying session of the NHRA Gatornationals on Saturday at Gainesville Raceway put a smile on his face.
Crampton ripped down the 1,000 feet with a run of 3.698 seconds at 319.37 mph, breaking the track record and snaring the No. 1 qualifying spot for final eliminations.
"We struggled a bit yesterday and were looking forward to the overcast conditions today because we all know what (crew chief) Aaron Brooks can do when the weather is like that," Crampton said. "To do what we did in the first qualifying session today and then to do another 3.60 was very cool. Hat's off to Aaron Brooks and the Lucas Oil guys."
The pass was the fifth quickest in Top Fuel history and was the first time a driver went quicker than 3.7 seconds on a track other than Brainerd International Raceway. It also was Crampton's fourth No. 1 of his young career and his first since Brainerd last year -- a race he won.
Crampton and his Morgan Lucas Racing team didn't make a full pull in either of Friday's qualifying sessions, but after rain in the Gainesville area gave way to overcast skies Saturday, Crampton figured the final sessions would be much better.
He broke the track record -- previously set by team owner Morgan Lucas in 2012 -- with a run of 3.731 at 319.37 mph in Q3 and went even quicker in Q4.
"I knew we were going to try and do it," Crampton said. "When the weather's good, (Brooks is) not going to let an opportunity to roll the dice slide by him. I knew he'd be trying and the car would be up to it; I just didn't know if the track would hold it. I was confident, but I wasn't sure we'd make it all the way down there, but by about half-track I knew it was on a heck of a run. It pulled me back in the seat so hard. I haven't made runs like that for quite some time, so it got my attention pretty good."
The car launched so well that the front end stayed off the track a little longer than usual.
"It carried the front end so far off the starting line and drove me a little to the right," Crampton said. "I had my hands full trying to get it back in the groove and keep it stuck for the 292-mph half-track speed that it was running. Just really excited for Lucas and Toyota and everyone at MLR. This is where we want to be, back to where we were last year. Hopefully we can go some rounds tomorrow."
Crampton faces No. 16 qualifier Chris Karamesines, who didn't have an official qualifying time, in the first round of eliminations Sunday.
Race day eliminations will air live from 1 to 4 p.m. ET Sunday on FOX Sports 1.