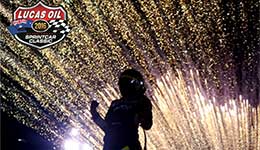 From Junior Sedans, to Formula 500's, to Sprintcars, to Classic Champion! That was the case tonight for local resident Jamie Veal as he claimed the 2016 Lucas Oils Grand Annual Sprintcar Classic at the Sungold Stadium.
After starting from the front row Veal defeated one of the toughest fields in Australian Sprintcar history as he finished in front of Kerry Madsen in a dramatic two lap sprint to the end.
"I can't believe it. The guys gave me a great car and I was able to hang on. I looked up at the big screen and I saw the 29 coming so I knew he was there. I couldn't believe the caution came out on the last lap I was so close to the finish line. I just had to take a few deep breaths and get ready for the last two laps. I can't thank my parents enough and the fans for coming out tonight" added Veal shortly after completing a series of do-nuts on the infield.
After leading the race for almost 30 laps Veal had the challenge thrown to him by Madsen who tried everything he could to make the pass but he couldn't get it done.
The caution came out for Steven Lines who melted down his powerplant and slowed dramatically catching out Ryan Jones and John Vogels.
Third place across the line was Robbie Farr, who got the better of Kyle Hirst in what was a great battle for the final podium position. Hirst actually led the race at one point until the yellow light came on negating the pass and handing the lead back to Veal.
Brad Sweet, who started from position 16, charged his way to position five with Brooke Tatnell, Randy Hannagan, James McFadden, Jason Sides and Terry McCarl rounding out the top 10.