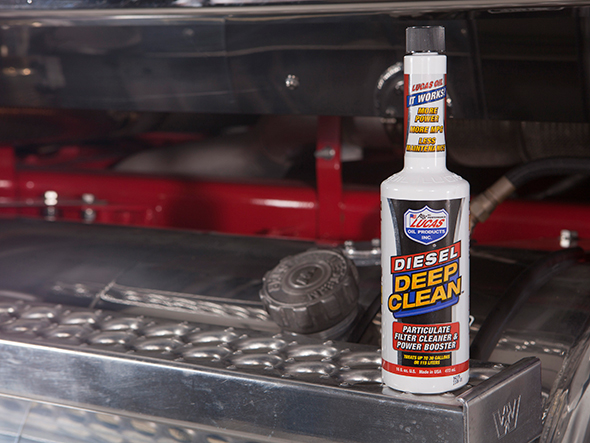 Diesel Deep Clean is a fuel additive designed for all diesel engines from passenger vehicles and 4x4s right through to light commercial and industrial use that cleans injectors and dissolves exhaust deposits.

The result is a uniform fuel flow, a cleaner, more efficient combustion, and reduced nitric oxide and nitrogen dioxide emissions.

Lucas Oil Products of Australia Managing Director Jeff Pahlke said Diesel Deep Clean has been developed to bring economic and environmental benefits.

"Lucas Oil has developed Diesel Deep Clean so drivers can get the most from their diesel powered vehicles and we're excited to launch it in Australia," Pahlke said.

"Diesel Deep Clean is formulated to reduce matter in diesel particulate filters and extend the life of diesel engines, as well as improving fuel consumption.

"More efficient combustion leads to better mileage, lower fuel bills and a reduction in maintenance costs."

Diesel Deep Clean is available initially in a 473mL size, which treats up to 113.5L of fuel, with a 1.89L bottle, which treats 454L of fuel, to be launched mid-year.

Lucas Oil Products recommends using Diesel Deep Clean in line with service intervals and complimenting its benefits by using Lucas Oil Fuel Treatment with every tank.

"Lucas Oil Products' additives are a simple way for motorists and fleet operators to reduce emissions and fuel consumption," Pahlke said.

Information about the full range of Lucas Oil Products, including the new Diesel Deep Clean, is available at the Lucas Oil stand.

Lucas Oil V8 Supercars driver Shane van Gisbergen will appear at the stand from 6:00 - 7:30pm on Friday, 17 April and on Saturday morning from 11:00. Two-time Australian Super Gas Champion Matt Forbes will also be present with his immaculate '57 Corvette Roadster.

Lucas Oil Products was founded in 1989 and is one of the fastest growing additive lines in the consumer automotive industry, with a premium range of oils, greases and problem solving additives.

The company boasts an unparalleled range for automotive, motorsport, heavy duty, industrial and marine applications.

Lucas Oil Products are available through Autobarn, Repco, Auto One, Supercheap Auto, Burson Auto Parts, and leading automotive, industrial, performance and trucking retailers.