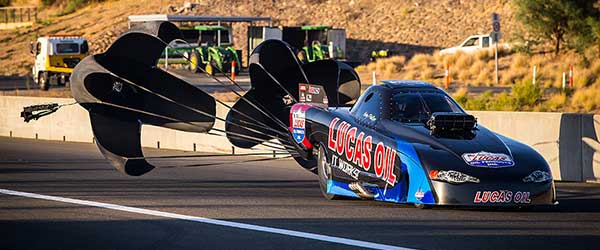 Last weekend, the Perth Motorplex was the site of record breaking runs for Australian Alcohol Funny Cars, where Gary Phillips and his Lucas Oil Products team broke through the highly sought after 5.3 second barrier, recording a 5.374 at 268.23mph.
"The second qualifying run was smooth through low gear. It left hard and once I hit the first gear shift, it really took off again", Phillips explained.
Gary wasn't finished there either, and in the third and final qualifying session, rewrote the record books again by recording a 5.360 at 269.83mph, the quickest and fastest run ever seen in Australia.
"In recent years, it's been a matter of when and not if someone would run a 30. We've been working toward this goal for a number of years. These were runs number 11 and 12 with the new engine combination, so to see this kind of success so early is very encouraging".
"In recent times, the performance level of the entire bracket has stepped up. We've been trying to find everything we can and may have found something up our sleeves, only time will tell. Everything on those runs went to plan, and we're ecstatic to run as fast as we did even with the strong 16mph head wind working against us".
Round 1 on a hot track saw Gary take the win with a great 5.421 at an early shut off 258mph.
"We wanted to get down the track and turn on the win light, so to be able to back the car down to a 5.42 is a great thing to be able to do".
In the semi finals, Gary inadvertently deep staged to the point the top light went out, and despite a lack lustre .997 sixty foot time, a win light and 5.460 at 268mph was the result.
This set up a repeat final of the race two weeks prior, with John Cannuli.
Unfortunately for Gary and the Lucas Oils team, the result was the opposite from the last time, the tyres went up in smoke 30 feet from the start line, and the race was over.
"We're not at all disappointed with our final result. We achieved what we came here to do, and to become the first in Australia to run a 5.30, is something we're all extremely proud of. To have just 15 runs on this new engine (and not many more on the new chassis), and have run twice in the 5.30s, seven times in the 5.40s, and once in the 5.50s is just great. To top it all off, we broke through our longstanding goal of 215mph to half track twice during the weekend, and actually ran 216.21mph on the 5.360", Phillips exclaimed.
"Even better, after 15 runs, we never changed a bearing or even had the cylinder heads off, everything looked just perfect each time the engine was checked - the protection that Lucas Oil Products provides our engines is fantastic and we are so proud to have them support us.
"As I've said before, we're all about the big performances, and to leave Perth with both ends of the record at 5.360 and 269.83mph, a win and a runner up at the last two events is just great. This truly is a team effort, so thank you to Deb, Cheyne, Steve, Leigh and Rob. As well as our sponsors that make this all happen - Lucas Oil Products, Speedflow, Leanders Clutches and J Payne Race Engineering".
Check out the team's Facebook page at www.facebook.com/GaryPhillipsRacing
Photo by: Phil Luyer - High Octane Photos / 400 Thunder