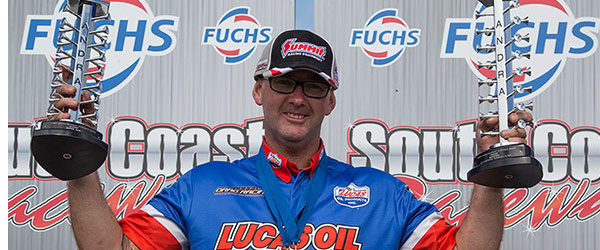 http://www.lucasoil.com.au (November 15, 2015) - Lucas Oil's Matt Forbes raced his way into the history books at Portland, Victoria on the weekend, becoming the first sportsman competitor in Australian drag racing history to win two brackets at the same event.
Forbes won the Super Gas and Modified Eliminator brackets at the Summit Sportsman Series event held at South Coast Raceway to claim the rare double.
Forbes' double triumph was also just the second time a double victory had been achieved in this country, with drag racing legend Jim Read winning the professional Top Fuel and Funny Car titles at the Australian Nationals in 1976.
Not only did he win, Forbes also claimed the number one qualifying sport in both brackets to clean sweep the weekend.
"I'm still a bit numb at the moment, it's a great feeling to take out both brackets," Forbes said.
"It took a lot of hard work, dedication and time at the shop getting ready, but I've got great support form my sponsors in Lucas Oil, backed up with the best crew anyone could ask for."
Driving his Lucas Oil '57 Corvette Roadster Super Gasser, Forbes defeated Colin Griffin on a hole shot in the Super Gas final, running 6.332s at 198.7km/h on a 6.30s fixed index over the eighth mile – winning the race by just 0.003s.
Although Griffin's time was 0.015s better, Forbes won the race at the start line with a 0.012s reaction time to Griffin's 0.029s.
In Modified Eliminator, Forbes took the victory from Leanne Braggs with a near perfect 4.634s pass at 241.3km/h on his 6.34s dial in, with his opponent also breaking out.
Forbes heads to Mildura's Sunset Strip for the next Summit Series event in two weeks time.